Days Out

Click or tap to open gallery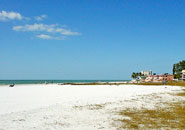 Siesta Key is a barrier island, eight miles long, just offshore of Sarasota, directly on the Gulf of Mexico. It has some of the world's finest white sand beaches, with unique restaurants, resorts, shopping and nightlife.
Sail aboard a 41-ft sailing vessel past celebrities' homes, the new Ringling Causeway bridge and view the Sarasota skyline. Choose from fishing charters, boat or jet-ski rentals. Hire a bike, a surrey, a motor-scooter, or take a kayak eco-tour. Go para-sailing. Or just keep fit in a gym with daily, weekly or monthly rates. Take in a glorious sunset and dine out in a wide choice of bars and restaurants.

Founded in 1997, The Circus Arts Conservatory is a not-for-profit performing arts educational organization, committed to broadening the artistic contribution of circus.
Known as the "Circus Capital of the World," Sarasota now claims its own one-ring, five star international circus.
Enriching, Educating, Entertaining. Serving the community through outreach and human service; fostering the tradition of the circus arts through educational programs and raising the awareness of the living circus through world-class performance. With matinées and evening shows, a great event for all the family.

The Marie Selby Botanical Gardens in Sarasota, Florida is perhaps best known for its living collection of more than 6,000 orchids. The 9.5-acre bay front property is an open-air and under-glass museum of more than 20,000 colorful plants. Throughout the grounds of the historic Selby estate are many distinct garden areas, including the Tropical Display House with its lush rain forest atmosphere, the towering Bamboo Pavilion, Banyan Grove, Cactus and Succulent Garden and Cycad Collection. Also in the grounds is the former Christy Payne Mansion, a unique example of eclectic Southern Colonial architecture. The Mansion, on the National Register of Historic Places, is the home to ever-changing botanical art and photography exhibits.
Children will delight in our indoor "rainforest", brilliant dart frog collection, and our gardens abundant with tropical flora and fauna.

From its humble beginnings in tiny shed in a small Florida town, Mote Marine Laboratory has expanded to include a 10.5-acre campus in Sarasota.
From the original focus on sharks, Mote research has expanded to include seven major areas of concentration, organized into seven research centers, and operates a public aquarium that serves nearly 400,000 visitors a year.




Historic Spanish Point. Discover a fascinating 30-acre museum overlooking beautiful Little Sarasota Bay in Osprey, Florida. Experience prehistory by stepping inside 'A Window to the Past', an archaeology exhibition about the gulf coast region's earliest people. Be surrounded by a 15 foot high prehistoric shell mound called a midden.
Explore Florida's pioneer life by touring a home built in 1901, a citrus packing house to learn about the produce of the Webb homestead, and the charming Mary's Chapel where many couples have been married in the past and today.
Reflect on the early 1900s as you stroll through formal gardens created by Mrs. Potter Palmer as part of her winter estate. Interact with a working maritime heritage boatyard and take seasonal excursions on Magic, a reproduction of a 1906 motor launch.
Enjoy shaded nature trails through native plant communities and stunning views of Little Sarasota Bay from large boardwalks. Relax in a dazzling Butterfly Garden which boasts blooms year-round. Bring a picnic lunch and dine under the graceful branches of a large majestic Southern Magnolia.

Located on a 66-acre estate on Sarasota Bay, The John and Mable Ringling Museum of Art was established in 1927 and is now recognized as the official State Art Museum of Florida, offering 21 galleries of European paintings as well as Cypriot antiquities, Asian Art, American paintings, and contemporary art.
The estate features the spectacular Cà d'Zan ("House of John"), a waterfront mansion that was restored in 2002. The Circus Museums, including the Tibbals Learning Center, display the world's largest miniature circus, costumes, wagons, performance equipment, and other artifacts chronicling the history of the Circus. The estate also features Mable Ringling's Rose Garden, completed in 1913, and beautifully landscaped grounds overlooking Sarasota Bay.
The Museum offers numerous cultural and educational programs, including courtyard concerts, "Third Thursday" socials on Cà d'Zan's terrace, lectures, workshops, children's programs, teacher training sessions, and public tours. The Museum also houses an art conservation laboratory, a 65,000 volume art library, and archives.
Included on the estate are the Treviso Restaurant, Banyan Café, two gift shops, and acres of parkland and gardens with banyan and palm trees among the wide variety of native and exotic plants.
Sarasota Jungle Gardens is one of the oldest continuously operating attractions in the State of Florida. Opened to the public in 1940, the "Gardens" has retained its old Florida charm and very little has changed over the past years.
The Gardens feature 10 acres of lush tropical vegetation, winding jungle trails and entertaining bird and reptile shows twice daily. The "Kiddie Jungle" features a tree house, haunted tree, tiger swings, slide and a custom wooden train for the children to play on. The Flamingo Café serves delicious food or you can bring your own picnic lunch and dine on one of the many picnic tables. Your visit isn't complete without feeding our "free roaming" American Flamingos!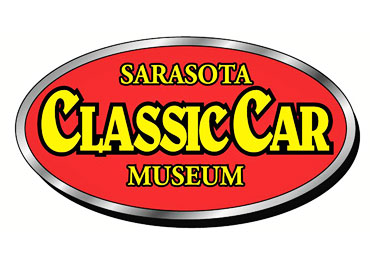 The Sarasota Classic Car Museum opened its doors to the public in February of 1953. Although the SCCM has changed ownership over the years it has operated continuously and now enjoys the recognition of being one of the oldest car museums in the world. It features a "living" collection of over 100 automobiles, spanning over a century of manufacturing. We have John Lennon's Mercedes Roadster, Paul McCartney's Mini Cooper and a dragster belonging to Don Garlits among our favorite treasures.
In addition to our extensive auto display, the Museum also has an Antique Game Arcade we invite everyone to enjoy. The games are operational and cost just a few cents to play. Smaller exhibits can be found throughout the Museum and Gift shop, also, such as the Antique Camera and Photograph Display.

C.B.'s Saltwater Outfitters has been a Sarasota institution since 1959. Located on beautiful Siesta Key, C.B.'s offers exciting opportunities for fishing anglers of all levels. From Charters fishing to boat rentals for touring our beautiful Sarasota bays and miles of inter-coastal waterways.
C.B.'s features a full line of ORVIS endorsed outfitters clothing, and guide service. A wide variety of fishing equipment, outdoor clothing, tackle, live and frozen bait, boat rentals, Florida fishing licenses, beach gear, soda, beer, snacks, and ice.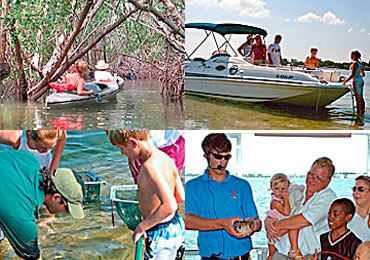 Sarasota Bay Explorers Eco-Tours
Looking for an exciting, hands-on, educational and FUN experience on the water? We've got it!
We are located in beautiful Sarasota, and work in conjunction with Mote Marine Laboratory to provide interactive marine science boat trips for both public and private use.
We offer several types of eco-tours including our renowned Sea Life Encounter Cruise, Guided Kayak Tours, Nature Safari and private charters aboard the Miss Explorer.

Welcome aboard the Marina Jack II! Sarasota's newest and most luxurious dinner boat. Join us for a relaxing cruise through the inter-coastal waters and the Gulf of Mexico and enjoy delicious dining, outstanding views, and world class service. Our air conditioned salons and open air outside deck will provide you with the best way to enjoy the waters of the Gulf of Mexico.
On the Marina Jack II every seat is a window seat! What better way to enjoy water-front dining than to be on the water! Each day you can choose from a lunch buffet featuring Grilled Chicken Alfredo and Catch of the Day or our Captain Jack's Prime Rib & Special Entree dinner buffet. While dining, enjoy playful dolphins, warm sunshine, and relaxing breezes.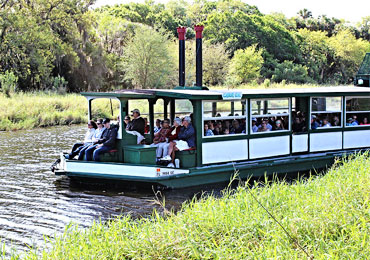 Myakka Wildlife Tours at the Myakka River State Park.
Come aboard one of the world's two largest covered air boats, the "Myakka Maiden" or the "Gator Gal" for a scenic cruise on the Upper Myakka Lake. These air-powered vessels venture into the shallow, grassy areas where traditional crafts of such size wouldn't be able to go. The leisurely ride is so safe and smooth you'll have no problem taking photographs to bring home.
Or take the special "Tram Safari" into the back country of Myakka River State Park. Discover what makes Myakka unique among America's freshwater lakes.

All the above information and more, including money-off coupons, is also contained in the Sunny Day Guide of Sarasota Inc. Pick up a copy when in town.